Event Calendar

Kitanippon Shimbun Toyama Summer Fireworks Festival
August 1

Taking place around the downstream of the Arisawa Bridge on the Jinzu River near downtown Toyama, this is the largest fireworks display in Toyama Prefecture. Now held on August 1st each year, this summer evening fireworks display first started 2 years after the 1945 bombing of Toyama (occurred on August 1 and 2, 1945) as a prayer for the repose of the victims' souls, for peace and for the reconstruction of Japan. Please enjoy this one-night son et lumière show while still praying for peace.

【Venue】
The downstream of the Arisawa Bridge on the Jinzu

【Inquiry】
Kitanippon Shimbun (Tel: +81-76-445-3367)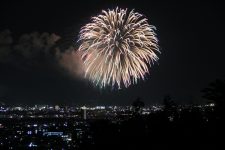 Tatemon Festival
August 3 and 4

This is a festival in which floats with rows of votes lanterns arranged in a triangular sail shape are heroically paraded around by strong young men dressed in happi coats, with the sound and rhyrum of Taiko drums and flutes. Tatemon means a votive object that is offered in front of God to pray for a good catch and safety at sea. This object hangs over 90 lanterns to a triangle shape on a large pole with a approximate height of 16 meters and stands on a base having a length of 10 meters and a total weight of 5 tons. They are paraded from the Uozu coast to the precincts of the Suwa Shrine.
Takaoka Mikurumayama Festival and Tatemon Festival were added to the UNESCO World Cultural Heritage List in December 2016.

【Venue】
Uozu-CIty

【Inquiry】
Uozu Tourism Association Co., Ltd.