Sightseeing Information
white shrimp
From its translucent pale pink coloring, the white shrimp is called the "jewel of Toyama Bay." Only Toyama Prefecture has shrimpers dedicated to catching the white shrimp, between April and November each year. Savor the delicacy both as subtly sweet, melt-in-your-mouth sashimi and as crispy kakiage tempura.

Links

Contact

Tourism Division, Toyama Prefectural Government
TEL +81-76-444-3200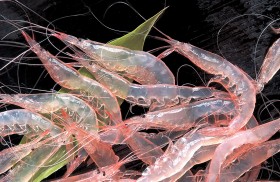 Toyama Bay Sushi
Toyama Bay Sushi is made with the freshest seafood from "nature's fish tank" Toyama Bay. The set of 10 pieces consists of toppings exclusively from Toyama Bay on rice grown in the prefecture, plus a bowl of soup, for prices ranging between 2,000 yen and 3,500 yen. Toyama welcomes visitors with its natural, fresh, highest-quality specialty sushi.

Links

Contact

Tourism Divison,Toyama Prefectural Government
TEL +81-76-444-3200