Sightseeing Information
Sashimi Rice Bowl "Kaisen-don"
The port of Sakai is one of the best fishing port in Japan. In 2013, Sakai had the third largest volume of seafood catch and the largest of bluefin tuna and crab in Japan. Various other kinds of seafood is caught fresh on a daily basis depending on the season. White squid "Shio-ika", horse mackrel and snow crab are some of the popular catch at Sakai Port. Sakai Port can offer you Kaisen-don as good as one might expect from a port town like us with such fresh seafood.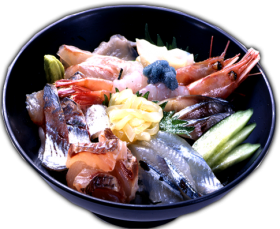 Izumo Buckwheat Noodle
Izumo soba is made from unhusked buckwheat soba grains which are freshly ground into powder. The husks are left in the process, making the color darker and the aroma stronger compared to other types of soba found in Japan. Moreover, Izumo Soba can be served in a way that is unique to Shimane Prefecture as a dish called "Kama-age". The soba is prepared in three round containers. People can add some condiments on top of it as they like and then pour "yudejiru" (water used to cook the noodle) to enjoy.
Links

Contact

Shimane Prefectural Government Tourism Promotion Division
TEL +81-852-22-5579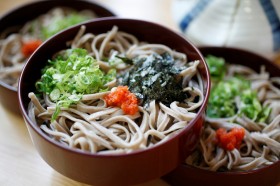 Wagashi (Japanese Sweets)
Matsue, along with Kanazawa and Kyoto, is a place which is know for Wagashi (Japanese sweets). The quality of their sweets is superb. It's very delicious to the palate and beautiful for your eyes to enjoy. Wagashi is an essential part of people's daily lives in Matsue. The history of it dates back during the rule of the 7th feudal load of Matsue fief "Harusato Matsudaira" around 1770. And he made tea ceremony culture popular across the region. Many of the traditional wagashi confectioners started their business since this era.
Links

Contact

Shimane Prefectural Government Tourism Promotion Division
TEL +81-852-22-5579