Sightseeing Information
Kyo Kaiseki (Kyoto Haute Cuisine)
Kyoryori, or Kyoto cuisine, demands that special attention be paid to the presentation and the plates, and requires refined technical skills to prepare and present these dishes. This is due to Kyoto's long history as the imperial capital. Kyoryori calls for seasonal produce to be prepared and seasoned only to bring out and enhance the natural flavors.

Contact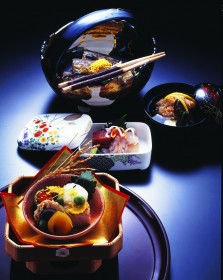 Kyogashi(Confectionery)
Kyogashi, or traditional Kyoto confectionery, has had a longstanding role in the imperial court, temples and shrines as an offering to the gods and ancestors, or as part of a traditional rite, as well as among noble families and tea masters as a delicious accompaniment to tea. In the world of Kyogashi, the seasons change once every two weeks. Thus it is of utmost importance that the design of the sweets will always be appropriate for that specific time of year. With Kyoto's aesthetic sense found in the seasons and events throughout the year, Kyogashi sweets have evolved into something exquisitely refined and elegant.
Contact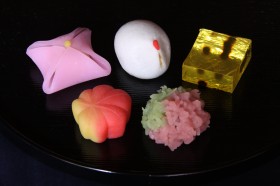 Maizuru Kamaboko (Maizuru Steamed Fish Cake)
A veritable treasure chest of seafood delicacies, the Sea of Japan supplies Kyoto with fresh fish, which is then carefully prepared using traditional techniques that have been passed down for generations. One of the most famous dishes to have come out of Maizuru is the Maizuru Kamaboko seasoned steamed fish cake, which has been awarded the Agriculture, Forestry and Fisheries Ministry Prize.
Contact

Maizuru Tourism Association
TEL +81-773-75-8600