Cruise Plan
Nature -Cruise Plan-
Port of Otaru
Visit to spots to see the superb view of the Shakotan Peninsula
Tour: About 8 Hours
Enjoy the huge panoramic view of the Shakotan Blue ocean from the observation deck or the ship.
Bikuni Port (Underwater View Ship)
Stay: About 50 minutes
Enjoy seeing the underwater of the very transparent Shakotan sea by an underwater view ship. The color of the ocean is called "Shakotan Blue." You may feel like strolling in the sea by observing sea urchins and various fish.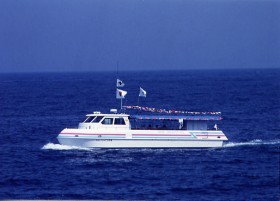 Shimamui Coast
Stay: About 120 minutes
Shimamui Coast is a spot to see the marvelous scenery of the Shakotan Blue ocean with oddly-shaped rocks. After walking through the tunnel to the observation deck, you will mesmerized by the ocean view spreading before you and changing momentarily.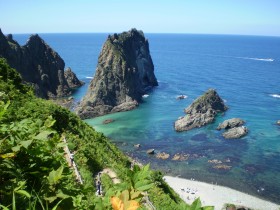 Cape Kamui
Stay: About 60 minutes
Cape Kamui, a part of Niseko-Shakotan-Otaru Kaigan Quasi-National Park, is located at the northeast end of Shakotan Town. Walk along the 770m"Charenka's Path" to the top of the cape. Then, you see the panoramic view of the cobalt blue ocean. The ocean is so transparent that you can see the sea bottom.
Address
Kozakicho, Shakotan Town, Hokkaido
Links
積丹観光協会
Contact
Shakotan Tourism Association
TEL +81-135-44-3715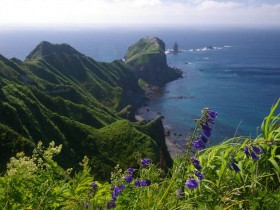 Port of Otaru
Bikuni Port (Underwater View Ship)
Shimamui Coast
Cape Kamui