Cruise Plan
Nature -Cruise Plan-
Port of Sakai
Enjoy spring in one of the best highland resort in Japan, Daisen
Tour: 6 Hours
Daisen is the highest mountain in the Chugoku region. It is very abundant in beautiful nature, including the beech forest, which is one of the largest in the west Japan, and Daisen Spreading Yew designated as the natural treasure. Take a walk in the 400m fieldstone approach to the rear shrine of Ogamiyama Shrine, hike up the mountain, or try downhill cycling. It is also good idea to go Masumizu highland to see a panoramic views of Daisen and the Japan Sea, and have their locally-made ice cream there. In Tottori Hanakairo, one of the largest flower park in Japan, you can enjoy various flowers blooming from season to season.
Daisenji
Stay: About 90 minutes
Take a walk along the 400m fieldstone approach from Daisenji to Ogamiyama Shrine.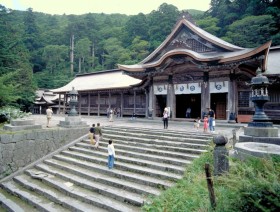 Daisen Makiba Milk no Sato (Home of Milk)
Stay: About 15 minutes
Try their special ice cream with the beautiful scenery of Daisen.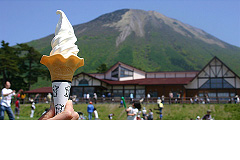 Tottori Hanakairo – Flower Park (Lunch Time)
Stay: About 105 minutes
Tottori Hanakairo is the largest flower park in Japan, measuring about 50 ha with a roofed observation platform measuring 1 km in length, an exhibition hall, and flowers and plants in bloom whatever the weather or climate. The main flower of Tottori Hanakairo is the yuri, a Japanese lily, which is in bloom all year round. This is the only facility in the entire Japan that has 15 varieties of wild lily on show.
Address
110 Tsuruta, Nanbu-cho, Saihaku-gun, Tottori
Links
DAISEN GUIDE
Contact
Tottori Hanakairo
TEL +81-859-48-3030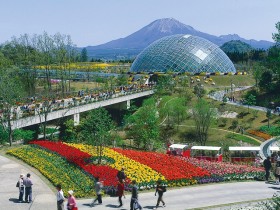 Sweets castle "Kotobuki-jo" (Shopping Time)
Stay: About 30 minutes
You can buy local specialties and Japanese confectionaries at the Sweets castle "Kotobuki-jo".
Address
1605-1 Yodoecho-sada, Yonago City, Tottori
Links
Sweets castle "kotobuki-jo"
Contact
Sweets castle "kotobuki-jo"
TEL +81-859-39-4111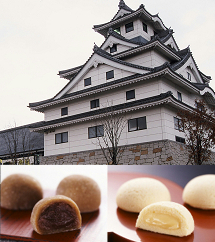 Port of Sakai
Daisenji
Daisen Makiba Milk no Sato (Home of Milk)
Tottori Hanakairo – Flower Park (Lunch Time)
Sweets castle "Kotobuki-jo" (Shopping Time)