Cruise Plan
Spa & Gourmet -Cruise Plan-
Port of Fushiki-Toyama
Travel in the deep mountain area, Kurobe Gorge, by the TOROKKO train
Tour: About 8-9 Hours
Enjoy Toyama Bay Sushi, made of very fresh seafood from Toyama Bay, marvelous nature, the secluded hot spring in the mountain, and TOROKKO train.
About 20-30 minutes by bus
Lunch of Toyama Bay Sushi
Stay: About 60 minutes
Toyama Bay Sushi defines sushi made of fresh seafood from the natural fish preserve, Toyama Bay, and delicious rice of which Toyama is proud. A variety of exquisite Toyama Bay Sushi will surely entertain you. There are many sushi restaurants serving Toyama Bay Sushi in Toyama, Takaoka, Imizu, or more cities in the Prefecture. Refer to the website for details.
Links
Toyama Bay Sushi
Contact
Tourism Divison, Toyama Prefectural Government
TEL +81-76-444-3200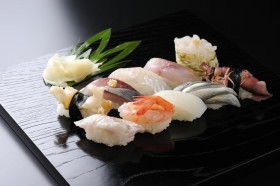 Kurobe Gorge Railways, "TOROKKO" Train
A little TOROKKO train weaves through the Kurobe Gorge, the deepest gorge in Japan. There still remains untouched nature there. Along the railway, there are various spots to see, such as 60m high Atobikibashi, ink wash painting-like Dashiroppo, and the permanent snow around Kanetsuri. There are still more places to visit. Hot springs gush near the stations of Kuronagi and Kanetsuri. In a sunny day, take an open air coach, so that you spend the special time with fresh wind. (The TOROKKO train service is available from mid-April to the end of November.)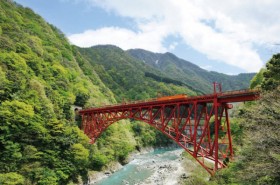 About 60 minutes by "TOROKKO" Train
Kanetsuri Station
Stay: About 60 minutes
Getting off at the Kanetsuri station, you see a landscape of a limpid stream of the Kurobe River and secluded onsen spots together in the Turikane Riverbed. From"Mannenyuki (permanent snow) Observation Deck," enjoy vistas you have never seen before.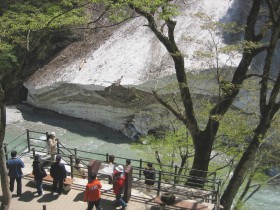 About 60 minutes by "TOROKKO" Train
Unazuki Onsen (Hot Spring)
Stay: About 60 minutes
Unazuki Onsen surrounded by rich nature is a representative hot-spring (onsen) area in Toyama prefecture. The area has abundant supply of hot water, which is very clear and good for skin. The vast and stunning vista of Kurobe gorge is spreading in front of you, while immersing yourself in the open-air bath.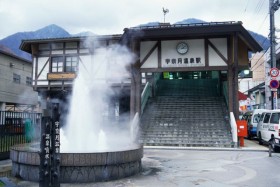 Port of Fushiki-Toyama
Kurobe Gorge Railways, "TOROKKO" Train
Kanetsuri Station
Unazuki Onsen (Hot Spring)