Cruise Plan
Spa & Gourmet -Cruise Plan-
Port of Kyoto
Take the Kitakinki Tango Railway to Amanohashidate and enjoy local food
Tour: About 6 hours and 30 minutes
Take a ride on one of Kitakinki Tango Railway's special sightseeing trains, and enjoy the beautiful scenery as you heard towards Amanohashidate, one of the Three Scenic Views of Japan. There you can enjoy the view of its 3.6km of white sandy beaches covered with pine trees, and after sampling the delicious and fresh local seafood, feel the history and tradition at some of the old sake breweries in the area.
Board a Kitakinki Tango Railway (KTR) Train
Stay: About 60 minutes
KTR operates scenic train journeys on its three sightseeing trains - Tango Akamatsu, Tango Aomatsu, and Tango Kuromatsu. All three of them offer stunning views of the surrounding landscapes as you wind through the beautiful Kyotango area.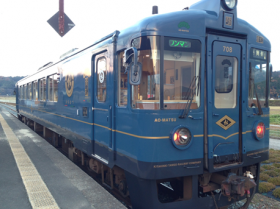 About 60 minutes (About 60 minutes by car)
Delicacies of the Tango Region (Lunch)
Stay: 60 minutes
Enjoy a lunch of juicy clams on a bowl of rice. These clams are caught early in the morning, and have a delicious strong and fresh flavour.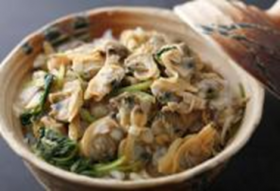 Amanohashidate (Bridge to the Heavens) and Kasamatsu Park
Stay: 90 minutes
Amanohashidate has long been one of the Three Scenic Views of Japan, and its 3.6km of pine trees, ranking in the Top 100 Pine Tree views of Japan, have been the inspiration for the poems of many poets. It is said that the view from the observation deck at Kasamatsu Park looks like a dragon rising up to the sky, giving it the name "Shoryukan," or "View of the Rising Dragon."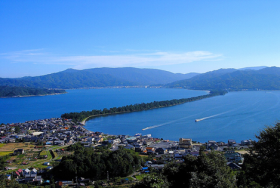 Local Tango sake and tour of sake brewery
Stay: 60 minutes
The sake breweries of Tango have a long history stretching back to the Edo period (1603-1868), and the traditional methods of brewing sake by hand are still used by the brewing masters today. Here you can have a guided tour of the old breweries, and sample fine sake in their relaxed settings.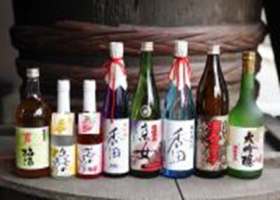 Port of Kyoto
Board a Kitakinki Tango Railway (KTR) Train
Delicacies of the Tango Region (Lunch)
Amanohashidate (Bridge to the Heavens) and Kasamatsu Park
Amanohashidate (Bridge to the Heavens) and Kasamatsu Park
Local Tango sake and tour of sake brewery