Cruise Plan
History -Cruise plan-
Port of Akita, Port of Funagawa, Port of Noshiro
Tour in the Samurai house district in Kakunodate and the Lake Tazawa
Tour: About 8 Hours
With a string of samurai houses, you may feel wandering in the ancient time. Enjoy this unique atmosphere. Enter some of them to feel the life of that time. You can try it anytime in the year. The Lake Tazawa is the deepest lake in Japan. It is also enjoyable to take a walk along the lake, which shows you beautiful sceneries of the indigo blue water and surrounding trees in four seasons. You should not miss the local beer, Tazawako Beer.
About 110 minutes by car (Via expressway)
Kakunodate Samurai Residences
Stay: About 60 minutes
Stroll the street in the Kakunodate Samurai Residences. It should be a good idea to stop here and there to enjoy the overview of the street, or enter in the house to feel the life of the old time. It is recommended to buy kabazaiku (birch craft), which is designated as the traditional craft designated by the Minister of Economy, Trade and Industry.
Address
Higashikatsurakucho, Kakunodatemachi, Semboku City, Akita
Links
KAKUNODATE TOURIST ASSOCIATION
Contact
KAKUNODATE TOURIST ASSOCIATION
TEL +81-187-54-2700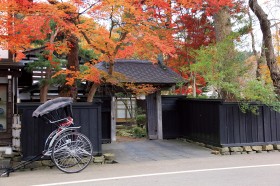 Lake Tazawa
Stay: About 120 minutes
Lake Tazawa is the deepest lake in Japan. Why don't you row a boat to the beautiful indigo blue lake? Around the lake, there are restaurants and cafés where you can enjoy Tazawako Beer and a nice meal. Don't miss the beautiful view of the bronze statue of Tatsuko, who wanted the eternal youth and beauty, then became the goddess of the lake, and its reflection on the water surface.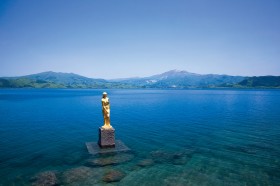 About 150 minutes by car (Via expressway)
Port of Akita
Kakunodate Samurai Residences
Lake Tazawa