Cruise Plan
History -Cruise plan-
Port of Fushiki-Toyama
The historical city, Takaoka, and the World Heritage, Gokayama
Tour: About 8 Hours
Feel the flavor of the history in the National Treasure Zuiryuji Temple and Takaoka city, a birthplace of Takaoka metal casting. Enjoy the traditional performing arts in the Historic Village of Gokayama, the world heritage site.
National Treasure Zuiryuji Temple
Stay: About 30 minutes
Zuiryuji is a temple of the Soto sect of Zen Buddhism, which has been designated as a national treasure of Japan. Built as the family temple of Maeda Toshinaga, a feudal lord of the Kaga clan, it has the qualities of a grand castle. Following the classical seven-hall construction, the somon (main gate), sanmon (temple gate), butsuden (Buddhist temple), and hatto (public chamber) are arranged in a straight line and connected to the sodo (meditation hall) and kuri (priest's quarters) to the left and right via a kairo (corridor). The white gravel -lined premises complete the serene atmosphere.
In Zuiryuji you can try Zen sitting meditation in quiet atmosphere of the temple, and have the Buddhist cuisine. Spend your special time to fee your own mind. (Time required: 2 hours)
Address
35 Sekihonmachi, Takaoka City, Toyama
Links
Zuiryuji Temple
Contact
Takaokazan Zuiryuji
TEL +81-766-22-0179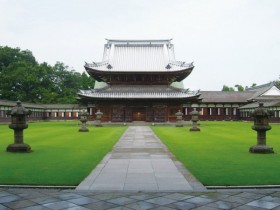 Kanayamachi(Houses with latticework design)
Stay: About 30-60 minutes
Kanayamachi is the birthplace of Takaoka bronze ware. Comprised of a 500-meter-long street lined with townhouses featuring latticework frontages, the nostalgic district is home even today to countless artisans who keep the traditional craft alive. You should try casting metal to create your own production. It takes 1 hour at least.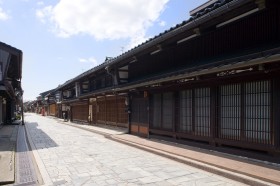 Lunch of Toyama Bay Sushi
Stay: About 60 minutes
Toyama Bay Sushi defines sushi made of fresh seafood from the natural fish preserve, Toyama Bay, and delicious rice of which Toyama is proud. A variety of delicious sushi will surely entertain you. There are many sushi restaurants serving Toyama Bay Sushi in Toyama, Takaoka, Imizu, or more cities in the Prefecture. Refer to the website for details.
Links
Toyama Bay Sushi
Contact
Tourism Divison, Toyama Prefectural Government
TEL +81-76-444-3200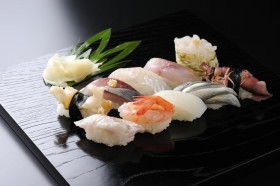 World Heritage Site, Historic Villages of Gokayama-Traditional Houses in the Gassho Style
Stay: About 150 minutes
Gokayama includes Suganuma village and Ainokura village. Suganuma exists quietly in a little terrace of the valley. Ainokura has a little community of 20 or more houses of Gassho-zukuri. Both were registered on the world cultural heritage list. Furthermore, they rank the highest with three stars in "Michelin Green Guide Japan."
The oldest Gassho-zukuri houses are 400 years old. These houses are still used as an ordinary residence. You will understand their history lives there.
Gokayama is also known as "treasure trove of folk music." In Gassho-zukuri house, the oldest folk song and dance "Kokiriko-bushi" is performed for visitors.
Many tourists enjoy making Gokayama Washi Paper to make your own post card or a round paper fun.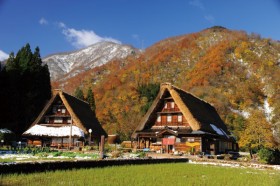 Port of Fushiki-Toyama
National Treasure Zuiryuji Temple
Kanayamachi(Houses with latticework design)
World Heritage Site, Historic Villages of Gokayama-Traditional Houses in the Gassho Style