Cruise Plan
History -Cruise plan-
Port of Sakai
Izumo-taisha (Izumo Grand Shrine) ; the home of Gods in Japan, and Matsue ; City of Water
Tour: 7 Hours
Izumo-taisha is famous nationwide as a shrine for marriage and good relationships. Izumo is a home for all the gods in Japan. Izumo-taisha stands majestically as the symbol of this area. It is believed that all the gods come to the shrine from all over Japan in October. By the Horikawa sightseeing boat, one can enjoy the view of Matsue's castle town which still holds an atmosphere of good old days of Japan.
Izumo Taisha Grand Shrine
Stay: 75 minutes
This is one of the most important shrines in Japanese history. Its deity is the god of marriage. The building is the oldest and was built in a typical Shinto architecture style.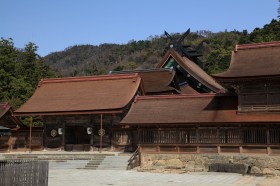 Shimane Winery (Lunch Time)
Stay: About 50 minutes
Address
264-2 Taishacho-hishine, Izumo City, Shimane
Links
Shimane Winery
Contact
Shimane Winery
TEL +81-853-53-5577
Cruise around Matsue's scenic castle district
Stay: About 60 minutes
Enjoy the traditional castle town by cruising the moat surrounding Matsue Castle.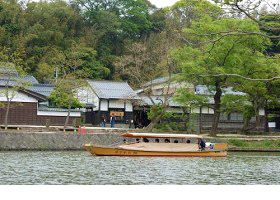 Port of Sakai
Izumo Taisha Grand Shrine
Shimane Winery (Lunch Time)
Cruise around Matsue's scenic castle district