Cruise Plan
History -Cruise plan-
Port of Kyoto
Feel the culture of Kiyomizu-dera Temple and Kyoto's cobbled-stone streets
Tour: About 8 Hours
Take a stroll down the traditional cobbled-stone streets of Kyoto's historical districts of Nishijin and Higashiyama. Here you can enjoy the finer elements of Japanese tradition and hospitality through Kyo-kaiseki, Kyoto's traditional haute cuisine, then visit the National Treasure, Kizyomizu-dera Temple – majestic and beautiful in every season.
Strolling through Nishijin
Stay: About 60 minutes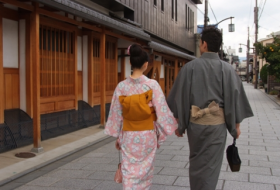 Kyo-kaiseki (Kyoto Haute Cuisine) Lunch Time
Stay: 60 minutes
Kyo-kaiseki is the haute cuisine version of Kyoryori, Kyoto's cuisine, and demands that special attention be paid to the presentation and the plates, and requires refined technical skills to prepare and present these dishes. This is due to Kyoto's long history as the imperial capital. Kyoryori, and especially Kyo-kaiseki, call for seasonal produce to be prepared and seasoned only to bring out and enhance the natural flavours.
Kiyomizu-dera Temple
Stay: 60 minutes
Ever since the Heian era (794 – 1185) people have flocked from all over the country to pray to the Kannon Buddha of Mercy at Kiyomizu-dera Temple. The large veranda built on the hillside offers spectacular views of Kyoto, with each season bringing a new sense of natural beauty; cherry blossoms and verdant greens in spring and the bright colours of foliage in autumn are particular highlights. The main hall is a National Treasure, and altogether there are 15 temple buildings in the temple area, all designated as Important Cultural Properties.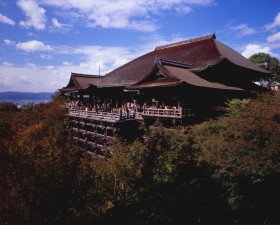 Walk the cobbled-stone streets of Higashiyama
Stay: 60 minutes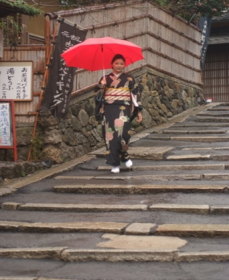 Port of Kyoto
Strolling through Nishijin
Kyo-kaiseki (Kyoto Haute Cuisine) Lunch Time
Kiyomizu-dera Temple
Walk the cobbled-stone streets of Higashiyama