Cruise Plan
Leisure -Cruise Plan-
Port of Fushiki-Toyama
Tour in the waterside town, Shinminato, and Kansui Park
Tour: About 6-8 Hours
Come and see the tall ship "Kaiwomaru" in the seaside town, Shinminato, and enjoy a riverboat tour from Kansui Park.
Shinminato bridge and Kaiwomaru Park
Stay: About 60 minutes
A seaside park, Kaiwomaru Park, has a symbol. That is "Kaiwomaru," which is a tall ship and called the "Lady of the Sea." You can look around the inside of the ship. There is the Shinminato Bridge near by the park. This is the largest cable-stayed bridge in the Sea of Japan side. In a sunny day, you enjoy a panoramic view from Tateyama mountain range to Toyama Bay from the bridge. Enjoy the beautiful ocean view with refreshing sea breeze.
Address
8 kaiwo-machi, Imizu City, Toyama
Links
Kaiwomaru Park
Contact
Public Interest Incorporated Foundation Fushiki-Toyama Port Kaiwomaru
TEL +81-766-82-5181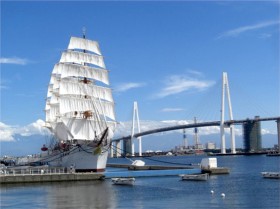 Lunch of grate seafood from Toyama Bay
Stay: About 60 minutes
Enjoy fully very fresh seafood from Toyama Bay. You should not miss white shrimps, called "the Jewel of Toyama Bay."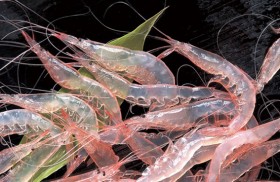 Shinminato Fishing Port Afternoon Auction
Stay: About 40 minutes
A daytime fish auction is conducted from 13:00 in the Shinminato Fishing Port. A variety of fish, crabs, shells are set up for the auction one after another. You feel dynamism of the auction from peoples' signs and voices there. From September to May, a red snow crab auction is held. The crabs are lined up in rows, which makes them a red carpet. It is overwhelming scenery. (Prior booking essential)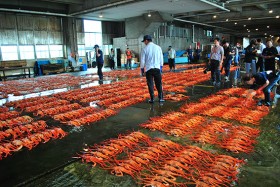 Kansui Park
Stay: About 60 minutes or more
The Kansui Park was developed based on Toyama's nature and the history of the canal there. In the park anyone from young to old can have a pleasant time.
There are several facilities in the park: Tenmon Bridge with observation towers which is a symbolic building of the park, an open space with a fountain and a waterfall, and big playground equipment. A Starbucks is also in the park. This Starbucks is famous for the most beautiful location in the world. Many events are organized in the park during all seasons in the year, such as fireworks shows. A riverboat tour service, Fugan Suijo Line, is available. It takes about 60 minutes. During the course, you will pass the lock which is a water elevator of 2.5m water-level difference.

Address
Minatoirifune-machi, Toyama City, Toyama
Links
Kansui Park
Contact
Kansui Park Center
TEL +81-76-444-6041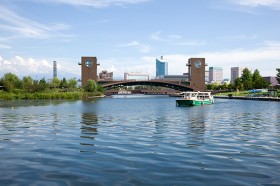 Spots to visit in Toyama
Masu-Sushi Museum
Masu-Sushi, that is the local delicacy of Toyama. The museum shows you a history of Masu-Suhi, and how to make it. You can make your own sushi, too.
Address
37-6 Nan'o-cho, Toyama City
Links
Masu-Sushi Museum
Contact
Masu-Sushi Museum
TEL +81-76-429-7400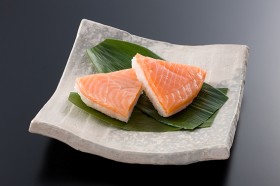 KOSHINOKUNI Museum of Literature
The museum was opened in July 2012. It has an extensive collection of literary works related to Toyama, and is the information center of Toyama's literature. Come and see to know them with ease.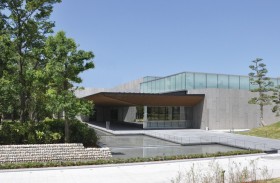 Toyama Glass Studio
Toyama Glass Studio is the center of the glass art in "the glass art city Toyama." In the studio, you can see artists producing works. In the gallery, enjoy exhibitions of original glass artworks from not only Toyama but also other prefectures. Furthermore, you can try produce your own blown-glass artwork or paperweight.
Address
152 Furusawa, Toyama City, Toyama
Links
Toyama Glass Studio
Contact
Toyama Glass Studio
TEL +81-76-436-2600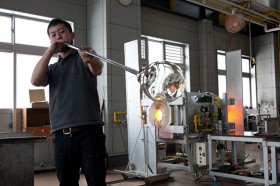 Ikedaya Yasubei Shoten
Filled with scent of medical ingredients, the shop has a variety of goods, including representative medicines of Toyama, old-fashioned packages for medicines, herbs, and herbal teas. The shop is particular about selling medicines with consultation. The shop staff ask you about your symptoms, conditions, and physical power to select the best mix from over 20 kinds of natural medicines and over 200 kinds of medical herbs for you. You can have an experience of a very traditional method of producing pills. This experience is available only here in Japan.
Address
1-3-5 Tsutsumicho-dori, Toyama City
Links
Ikedaya Yasubei Shoten
Contact
Ikedaya Yasubei Shoten
TEL +81-76-425-1871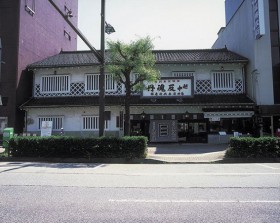 Port of Fushiki-Toyama
Shinminato bridge and Kaiwomaru Park
Lunch of grate seafood from Toyama Bay
Shinminato Fishing Port Afternoon Auction
Kansui Park
Masu-Sushi Museum
KOSHINOKUNI Museum of Literature
Toyama Glass Studio
Ikedaya Yasubei Shoten